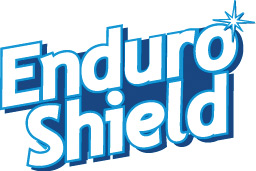 Save time and money with EnduroShield® – the revolutionary permanent non-stick coating ideal for all glass surfaces including:
· Shower Doors
· Sandblasted & Acid-etched Glass
• Up to 90% less cleaning time

• Protects glass against staining & etching

• No revitalizer products required
• 10 Year Warranty
Make Cleaning a Breeze with EnduroShield
EnduroShield is an ultra-thin transparent coating that completely adheres to the glass surface and provides protection that will repel both water and oil-based stains.
Unlike many other products on the market requiring revitalizer products, EnduroShield bonds with the glass to form a permanent bond. EnduroShield provides affordable protection for your investment.
---
Did you know that glass is porous?
Untreated glass is porous and as a result it absorbs mineral deposits and soap scum, making it very diffcult to clean. Over time glass can discolor and etching can occur in harsh environments, such as the common household bathroom. The shower door is subject to mineral deposits from water, shampoo chemicals, soaps, body fats, and harsh scrubbing with toxic cleaners. EnduroShield is perfect for shower screens.
---
Save on cleaners, save the environment
Similar to a non-stick fry pan, cleaning is made easier using only water and a mild detergent with a micro-fïbre cloth. No longer is scrubbing with harsh toxic cleaners needed, EnduroShield makes cleaning a breeze and is the environmentally-conscious option.
---
Stay germ-free with EnduroShield
The superior protection of EnduroShield assists in preventing the build-up of mould and harmful bacteria, helping to promote a germ-free environment.
---
Want to know more?
Visit our comprehensive website at http://www.enduroshieldusa.com/enduroshieldglass.html.